Gil & Moti blog: From Rio with Love
During residency at Capacete – Rio de Janeiro, Brazil,March - August 2017
Mondriaan Fund International Artist in Residency Program Grant
Break a leg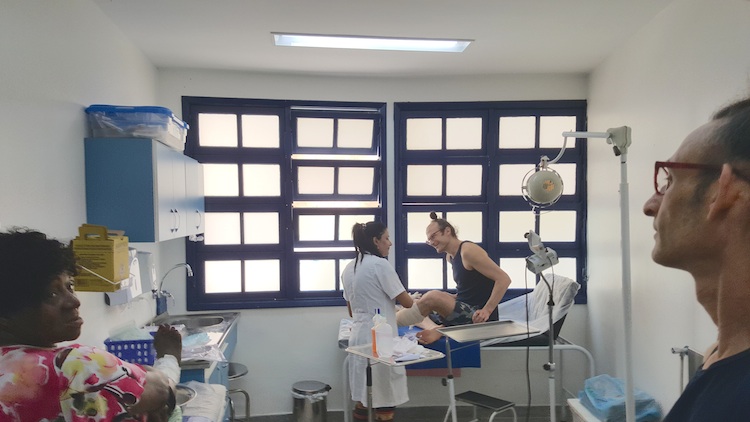 After one long week being grounded we went to the clinic to remove the stitches. We spotted the Jogo do Bicho selling point just by the entrance. When we left the clinic Moti asked to bet. In this lottery game one need to choose a four digit number. Each number represents an animal. Moti chose the number: 0108; 01 stands for Ostrich and 08 stands for the eight stitches that were just removed. Gil said: 'break a leg', but that unfortunately didn't help winning.
Business as usual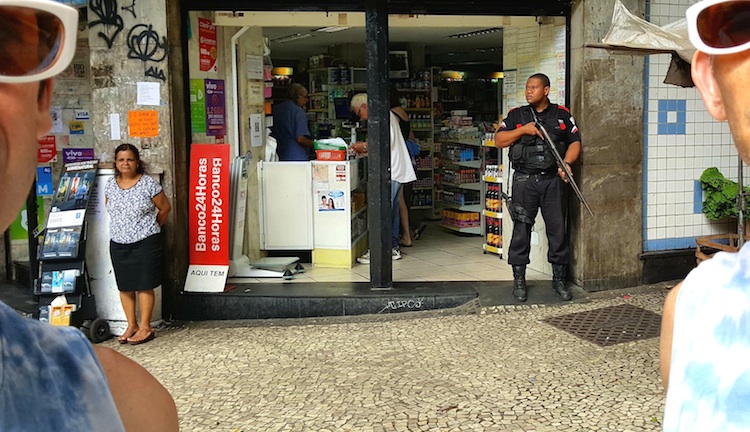 Despite our Middle Eastern background we can't stay indifferent to the constant presence of machine guns at every corner in the city. Besides a large amount of policemen, there are city public space guards, private guards hired by companies, or just like the guy in the photo; a security man who's protecting the cash transport from the drugstore. Not only the gun he held, but the menacing gaze in his eyes made us look for another drugstore nearby.
Luciana the doorwoman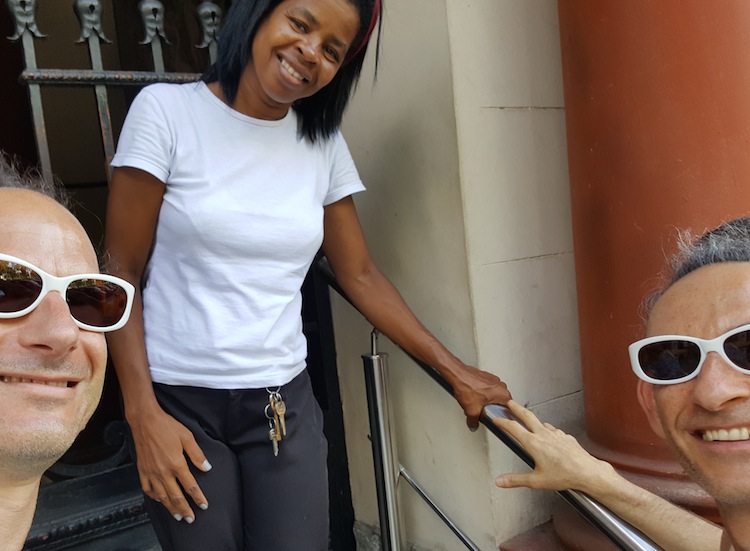 Also our apartment building is well protected, at least during daytime thanks to Luciana. Yesterday she warned us not to visit Lapa. Therefor we went to Copacabana instead and visited a shopping mall that houses a number of contemporary and commercial art galleries.
Eyes were burning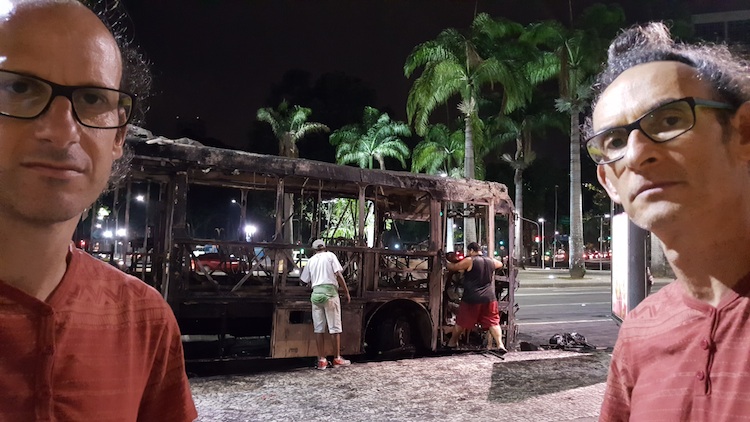 We took a bus back to the apartment. It was rush hour; the bus was packed and some streets were jammed with traffic. The bus drove into a long tunnel that we weren't familiar with. Passengers were talking (in Portugees) with each other as well as with the driver. We asked one lady but she didn't understand us. A guy offered his help. He told us that some streets in the city are blocked and that's why the bus driver took a different route. The bus stopped and we were all asked to get down. The guy, named Felipe, said that we were in Lapa and he could show us the way to Gloria. He said that there were riots on the streets; working unions were demonstrating against the president proposed reforms for pension cuts and his corruption. Suddenly people on the street started shouting and running our direction. Policemen were pointing weapons towards us and the others, and eyes were burning from the tear gas. An then we saw four buses on fire.
Carioca's cuisine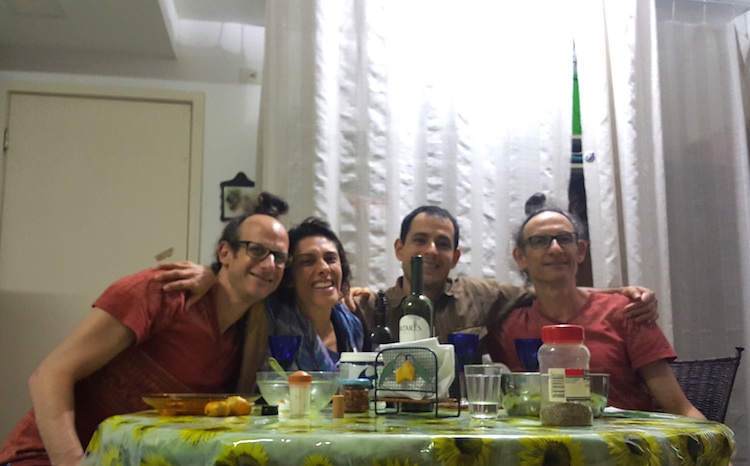 Felipe suggested that if we were not having plans, he would introduce us to his wife and that we could have dinner together. And so we did. We arrived in front of a huge apartment complex with an entrance gate (one needs a smart card to enter). We passed a doorman. Then a second gate that also opens with the smart card and a second doorman. We took the elevator. Felipe is from Colombia, Adriana is Brazilian. We asked them if they often pick up strangers from the street or was that typical Carioca thing? (Carioca is the term used to refer to Rio locals). Adriana was preparing some macrobiotic dish using fresh products from her father's farm. We were discussing the riots. She said: "Everyone should live honest and decent, and justice should be applied for everyone too. We people need to talk with one another and get organized. We should demonstrate but violence is not a way to change the situation". We told her that she sounds like a leader, and she said that Felipe bought her once for her birthday a megaphone.
The morning after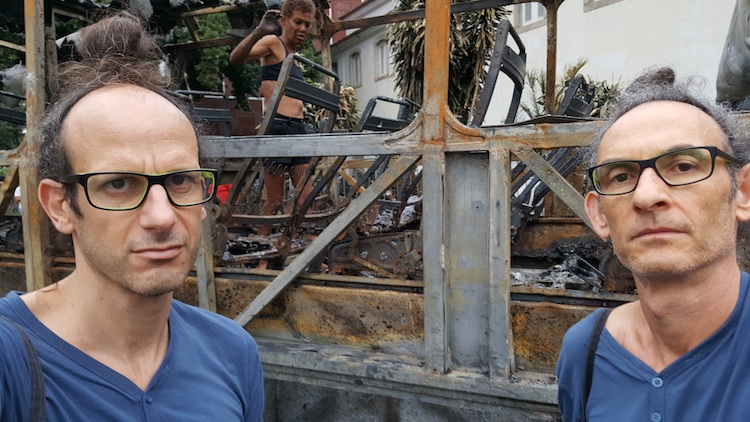 Out of curiosity, we went back to the riots junction. There were neither policemen nor guards. The burned busses were there still, drawn aside, placed as monument, relics of war, like props on a film set. The people who live on the streets, with bare hands, tore the buses into metal pieces, pieces that may have an economic value.