Gil & Moti blog: From Rio with Love
During residency at Capacete – Rio de Janeiro, Brazil,March - August 2017
Mondriaan Fund International Artist in Residency Program Grant
ONES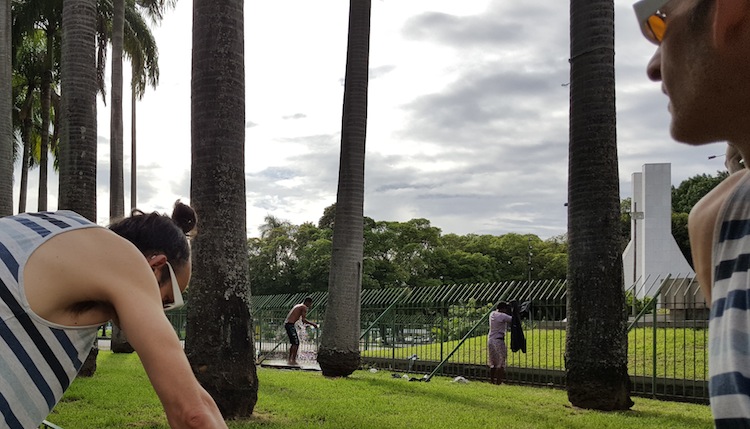 Arriving for the first time ever in Brazil we were picked up at the airport by Joäo, that had a friendly big smile on his face, yet we were not able to exchange any word as we don't speak Portuguese. We all struggled to stuff our suitcases in his old and tiny car, but with success. When entered the city we experienced a vivid scenery; lots of colors, old and new buildings, much traffic, music everywhere. People were sitting (or standing and dancing) in groups, drinking, eating and celebrating the beautiful weather, enjoying life. Suddenly we saw someone laying on the pavement in front of a closed shop. Here's another ONE, and there's a third ONE. Shortly after we stopped counting. We reached the Capacete residency apartment (Rua do Russel 300). There were laying in front of the building other ONES.
The (Brazilian) twins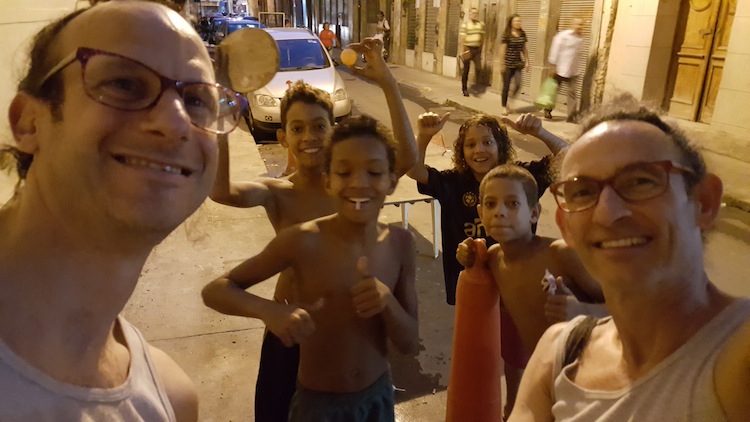 Evening in Rio. The kids were playing ping pong on the street. One boy asked us if we were twin brothers, and the other asked not to give the others money.
First time we met Brazilian kids was in 1994, during our studying at the art academy in Jerusalem. To pay the rent we were babysitting fulltime for five years a boy and a girl, that were adopted from Brazil. Their adopting Israeli parents, that were focusing on their career, have given them new life and a wealthy future. They used to call them: 'the twins' though they had no blood relation with each other.
First (local) AMIGO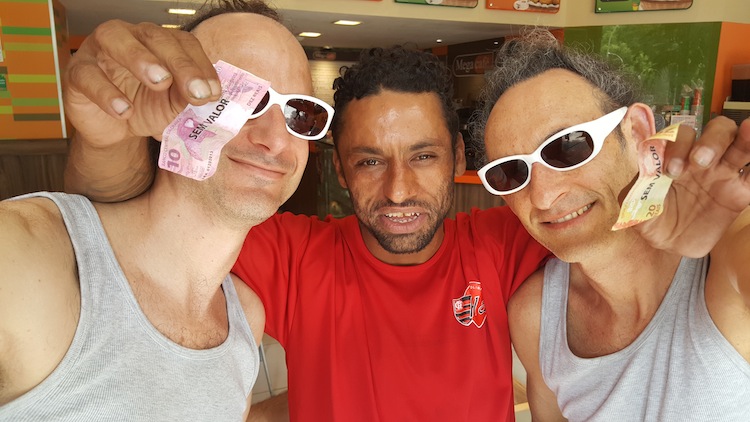 Down the street from the Capacete residency is a cafe where we found our fixed table with a street view. There we meet daily our new local AMIGO; homeless who named himself: ALAN PATRICK ALVES. We googled and found that ALAN PATRICK ALVES is Brazilian Boxer, who made a name for himself fighting in his home country of Brazil.
Every (National) problem has got a (Personal) solution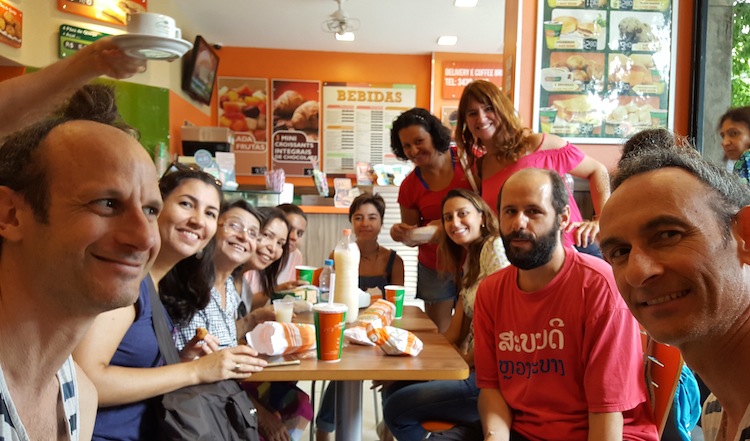 The other day when we were back to the cafe, our favorite table was taken by a large group of people. Thiago Renault, one of them, told us that they are several (private) people that care for the homeless. Together they form an organically growing group named: PROJETO VOAR (English: Project Fly. Can be found on FaceBook). Thiago said: "Only at this area, are about 350 homeless people. On Thursdays we provide them with breakfast and Yoga lesson at the garden by the junction across from the cafe."
That day our AMIGO wrote in our notebook: Deus é Fiel (English: God Is Faithful).
Gustav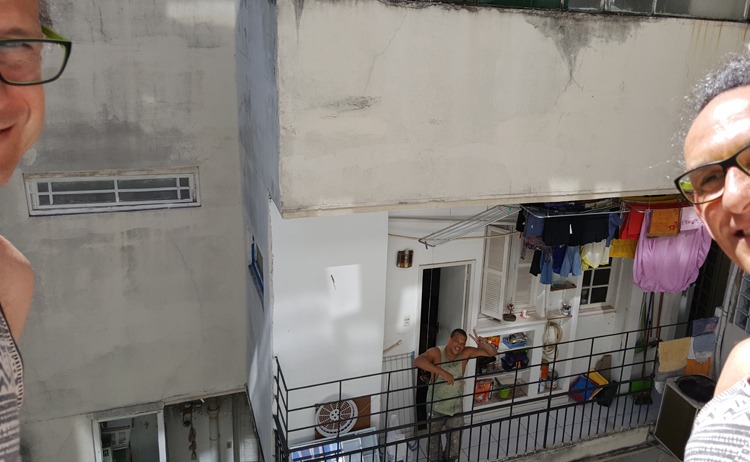 "I'm a NEGRO and Negroes don't live here, they live in the FAVELAS (English: slums)". Gustav renovates the neighbours' apartment." I studied Psychology and Philosophy at Rio University , I know much about Heidegger, Kant and Foucault, but here I can't get employed and I've got three daughters to take care of, so I work here instead. You TWO soul mates make me happy. If you are interested I'll take you one day to see where I live".
Cintia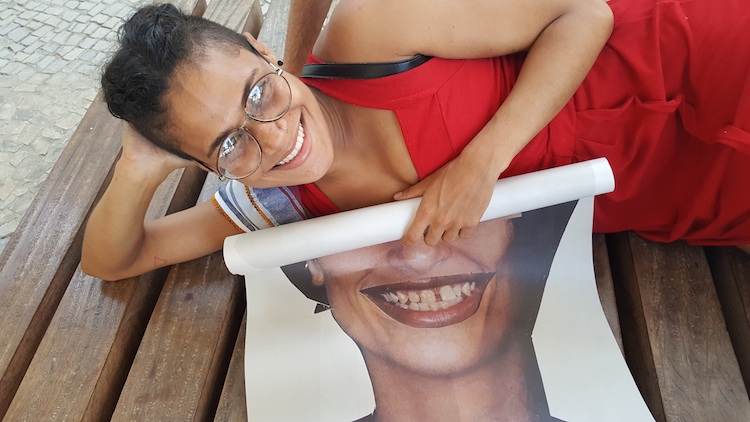 Brazilian Cintia is one of the three other Capacete residents with whom we share the apartment. She is working on her PHD in the local university, researching the BLACK body and how transgenders perform femininity. "When I've moved to Rio I found out that in the Queer movement the BLACK was absent, all were white members… I've also noticed that among the city monuments, that commemorate leaders and events from the city history, landmarks of the slavery are missing."
The whitest girl in town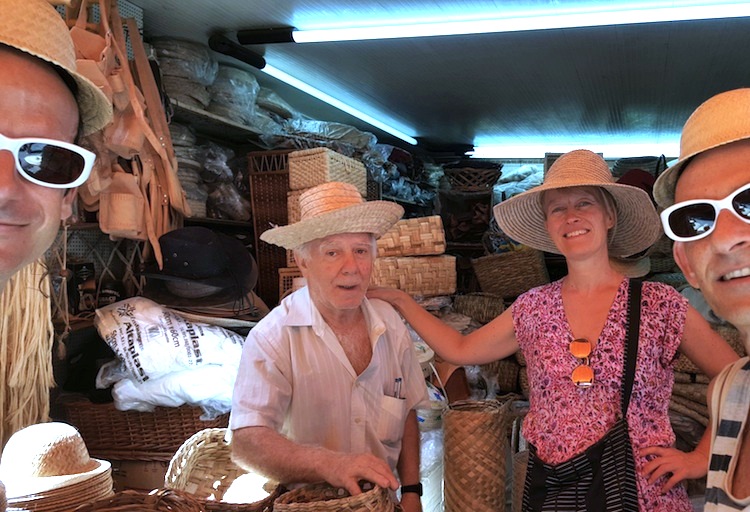 The kitchen in the Capacete apartment, serves (at least) two times a day, as a therapy room where the daily intense experiences are being shared, filtered and examined together with our European Danish flatmate Marie. She's exhausted from the precaution against robbery; Her city map is getting filled with marks of safe and dangerous streets, the apartment keys are hidden in her bra, and she often uses our masculine company to go places. At the weekend we visited together Saara market where plenty shops sell everything (and nothing). Marie navigated us (of course via the safe streets) to Bazar Fekiz; Jacob, the 80 years old owner, has been weaving Coconut leaves into heats, baskets, sandals, rags, bags, boxes, for 61 years.
Jogo do Bicho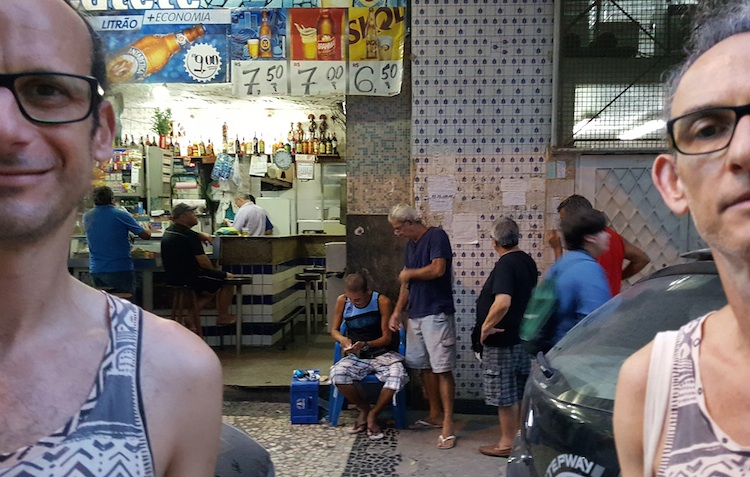 In the heart of our residency project is the traditional lottery game: JOGO DO BICHO (in English: the animal game). Originated in Rio de Janeiro in 1892, the game is highly popular and prominent in Brazilian folk culture, leisure and everyday city life. Although illegal since 1946, is tolerated by the authorities.
Lean aesthetics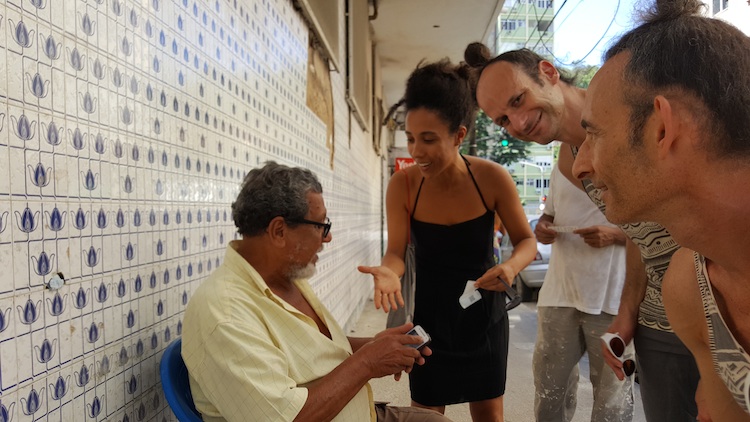 Since we arrived in Rio we were constantly looking around hoping to find the game. We did not know that we passed by it every day without noticing it. Until Camilla, the new director of Capacete (who warned us that we may get in trouble with the local mafia!), offered her help to show us around and took us to two selling/playing spots that to our surprise were just around the corner from the apartment. One spot is located in front of a bar we were familiar with, and the other is located across from a Brazilian snack bar, we once dined at. So simple, lean and conceptual are the aesthetics of this game, that we began to wonder whether this (almost) invisibility is a deliberate strategy to hide the illicit activity from the watching eye.
An Easter tale

It was a lovely Saturday evening. Despite the safety recommendation we took a walk through a darkened steep alley up to Santa Teresa. The wind carried the angel chants from the churches all the way up the hill. Suddenly an unexpected trouble came our way; Moti stepped into a hole in the ground, that caused a deep open wound. We sat down on the side of the alley. Moti was in shock and pain and Gil was tying a cotton bag around the wound, hoping to stop the bleeding. Soon after, two local SAINTS approached us offering help. Saint Fabio called immediately a taxi, and Saint Benjamin Jullien suggested we'll head directly to Hospital Municiply Souza Aguiar. The taxi has arrived and the two saints surprisingly jumped into the taxi, saying that it will be better if they were to do the talking for us in the hospital. On the way to the hospital we have realised that we neither were carrying passport, health insurance card, nor credit card (we were well prepared against robbery). Saint Benjamin Jullien assured us, that the photocopy of the passport that was in our disposal, will be sufficient and that first aid and emergency treatment are at no cost, for everyone, in the public hospitals in Brazil. Saint Benjamin Jullien accompanied us to the emergency room, while Saint Fabio had to wait outdoors.Together with us were waiting in line for the doctor examination various types of people among them policeman injured in his head and a handcuffed young man, accompanied by four armed policemen. A macabre picture. After long waiting finally three charming doctors looked at the wound and asked to follow them to the treatment room. Eight stitches are, definitely, a memorable Brazilian souvenir.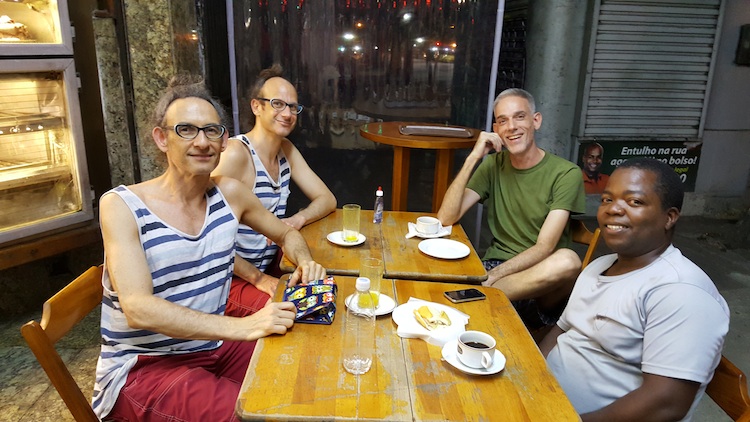 When we checked out of the hospital, we realised that so far we had no clue what were the original evening plans of the two saints, four hours ago and before we met. They told us, that they were on their way to taste the best Nega Maluca (Brazilian Easter Cake) in their favourite cafe: Confeitaria Santo Amaro. We suggested we all go there to close the night. That happen to be a cafe, in a walking distance from our residency apartment, that we often visit. That is to say; we were meant to meet, sooner or later, these two saints, for better or worse.